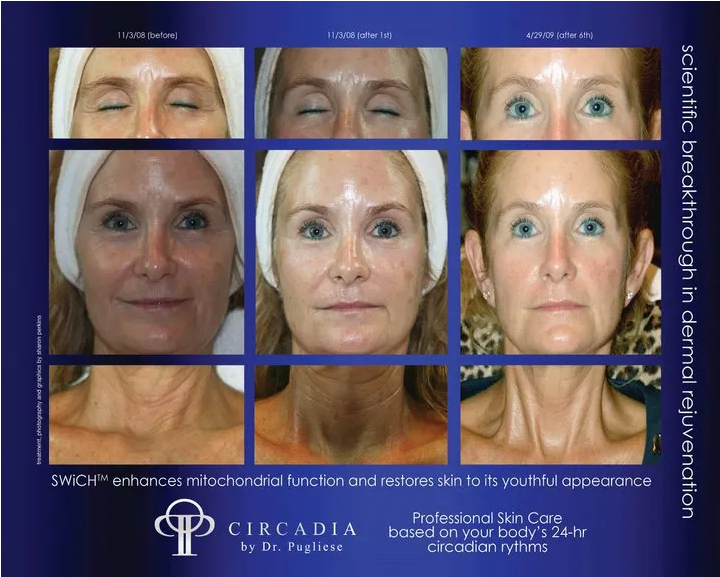 Circadia SWiCH in Bartlesville OK
SWiCH, Circadia's signature treatment, is a unique alternative to chemical peels that takes advantage of the skin's natural repair mechanism without causing damage. This treatment imparts an immediate boost to the look and feel of aging skin. 
Circadia SWiCH™ is a multi-step treatment that allows the active ingredients to penetrate into the skin, switches on the skins repair mechanisms, and supplies energy for the repair process to fully complete. The best candidates for this treatment are clients over the age of 37 showing signs of aging and/or hyperpigmentation.
What is the Downtime and Limitations?
Avoid water, saunas and sun exposure for 12 hrs. 
Redness can occur for 1-3 days. Typically there is none. 
You can wear makeup in 24hrs. We prefer using a bb cream if you must wear makeup.  3 days if the preferred of not wearing any makeup for best results.
What are the Benefits of SWiCH?
Activation of the body's natural repair and renewal system
Initiates increased cell-to-cell communication
Promotes healing and immune defense
Supports increased energy production in dermal and epidermal cells
Brightens skin and reduces pigmentation
Safe and Gentle
Little Downtime following treatment
When will I see results?
You will see improvement after the first treatment with most people seeing more dramatic changes after 2 to 3 treatments.
How many treatments will I need?
Circadia recommends doing a series of 6 treatments for optimal results. Maintenance – 1 treatment every 3 months to maintain energy cellular energy