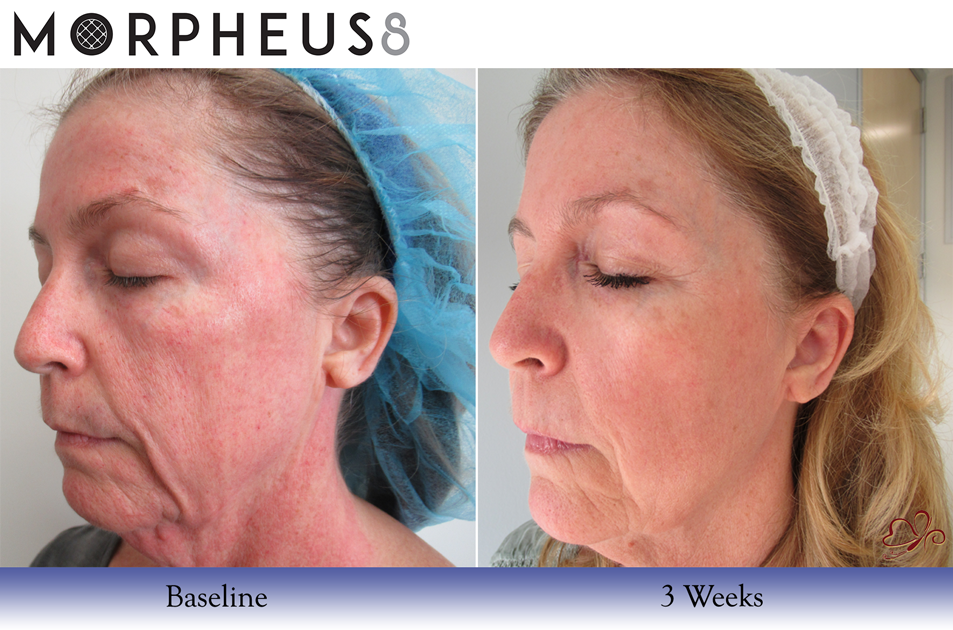 What is Morpheus8?
Morpheus8 is a unique fractional skin treatment that combines the benefits of microneedling and radiofrequency (RF) to target the deeper layers of the skin. The combination of these techniques helps to stimulate collagen, tighten the skin, and reduces fine lines, wrinkles, discoloration, and acne scars. The most commonly treated areas include the lower face and neck, but its benefits can help improve skin on many areas of the body, including the arms, above the knees, and more.
What is the Morpheus8 Treatment Like?
One hour before your Morpheus8 treatments, we will apply a topical anesthetic to the area being treated. This helps to reduce any discomfort that may occur during the treatment process. The Morpheus8 will insert tiny needles into the deeper layers of skin on the area being treated, while using RF on the surface of the skin. Once the surface area has been completely treated, the treatment will be complete.
How Much Does Morpheus8 Cost?
At Restorations Medical Spa, we take a personalized approach to every Morpheus8 procedure. This means that the cost of your treatment will depend on variables like your desired treatment area and the number of treatment sessions needed. As a result, we cannot provide you with the exact cost of treatment until you visit us in-office for a consultation. All consultations are complimentary.
What is Recovery Like Following Morpheus8?
You may experience some pinpoint bleeding immediately after treatment, and redness, swelling, and minor sensitivity for 1 to 2 days after treatment. It is important to take care of the skin following treatment, so your aesthetician will recommend a number of beneficial skincare products for you to use. Despite these side effects, most patients are able to resume regular activities within a day or two of treatment. It is important to limit makeup application and sun exposure for a few days after your treatment.
What Kind of Results Can I Expect from Morpheus8?
The treatment helps improve skin complexion and texture, stimulates collagen production, and tightens skin, giving you a more radiant and youthful appearance. Results can be seen within a few days, but continually improve, seeing full results at about 3 weeks. Several treatments may be necessary to achieve optimal results.
Our Medical Director, Dr. Elizabeth Sherrock, MD and certified aestheticians at Restorations Medical Spa pride themselves on providing only the most advanced technology and techniques. With regular continuing education, we take aesthetic care very seriously. Restorations Medical Spa is the top aesthetic treatment provider in Bartlesville and surrounding areas. Call our office to set up a free consultation to determine if Morpheus8 RF Microneedling and Skin Remodeling is the right choice for your beauty goals. Our number is 918-331-2329.