It's undeniable that light-based and laser skin treatments have revolutionized the beauty industry. We now have the technology to eliminate broken capillaries, dark spots, scars, stretchmarks, unwanted hair, rejuvenate aging skin, and reduce the incidence of acne, all with the power of light.
Restorations Medical Spa uses Intense Pulse Light to treat a myriad of concerns, including those listed above. Though similar and often used interchangeably, "laser" and "intense pulse light" (or IPL) are not the same thing. Lasers focus the area of treatment in a much smaller area whereas IPL broadens the treatment area. This illustration shows the difference between the two: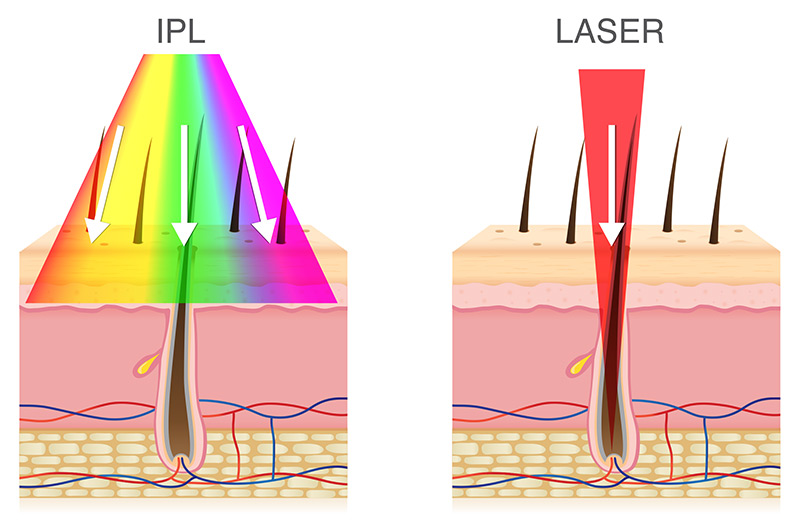 What Can You Accomplish with Light-Based Treatments?
The possibilities are endless! No really, laser skin treatments and light-based therapies are very nearly a panacea for what we might term "beauty ailments". One of our most popular treatments is for the treatment of hyperpigmentation, this includes dark spots and melasma, or pregnancy mask. Often resulting from too much time in the sun, hormone fluctuations, and/or genetic predisposition, hyperpigmentation is a very common concern. Depending on your Fitzpatrick skin type, most hyperpigmentation can be dramatically reduced or entirely eliminated in an average of 3 treatments.
Equally popular (and great for this time of year!) is permanent hair reduction. Whether you are treating dark, unwanted hair on the face, underarms, bikini area, or elsewhere, IPL is highly effective at reducing and eliminating this often-bothersome issue. Significant hair reduction is typically seen after one treatment and subsequent treatments are usually needed for areas with more concentrated hair growth.
There are several other skin issues that can be treated with IPL, too many to talk about here! Call or drop in to schedule a free consultation to discuss treatment options for your individual goals.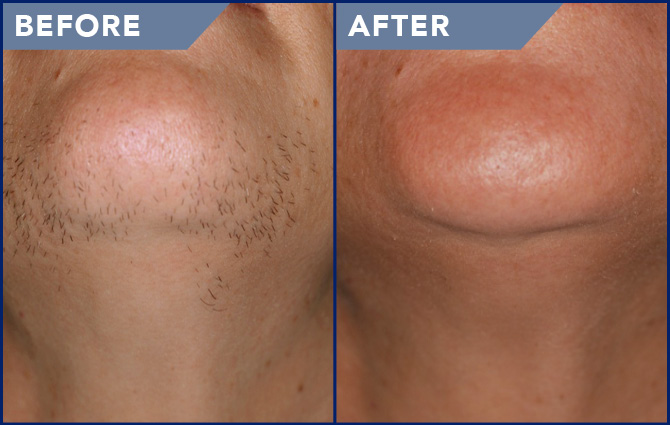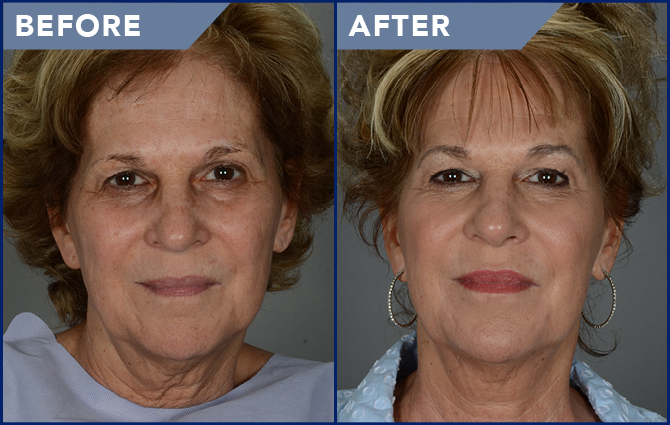 Photo source Soderstrom Skin Institute
Can Anyone Have Laser and Light-Based Treatments?
Most people can be successfully treated with light-based treatments. However, people with very dark skin need to be careful with certain treatments as improper use can result in scarring. Additionally anyone using retinol products or taking medications such as Accutane or St. John's Wort should not be treated with laser or light based skin treatments as hyperpigmentation and scarring can result.
Choose An Expert
It's extremely important that you choose carefully when deciding on an aesthetician or light-based technician. The internet is full of stories of people being burned, and in some cases, permanently scarred due to misuse of light-based therapies and laser skin treatments. In the hands of an untrained operator, light-based treatments can be ineffective at best, and dangerous at worst. Restorations Medical Spa has a completely clean and incident-free track record! Your beauty and wellbeing is our passion – We take great pride in providing our clients with the highest quality treatments and experience. Our professionals are highly trained and have more than 20 years of experience and regularly undergo trainings and certifications. Your safety and comfort are our #1 priority. Find out why we are Bartlesville's top rated medical spa. Consultations are always free. Let us help you determine if light-based skin treatments are right for you and your aesthetic goals.
 Call our office to schedule a complimentary consultation: 918-331-2329.